Hoonko Service (Memorial Service for Shinran Shonin)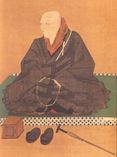 The Hoonko service is the memorial service of our founder, Shinran Shonin.
He passed away on January 16, 1263 at the age of 90. After he passed away, many followers recalled Shinran Shonin, then they gathered together and had the service on his memorial day every year. For the Shinran Shonin's 33rd year memorial service, Kakunyo Shonin, the 3rd Monshu of Hongwanji, decided on the system of the ceremony and composed "Hoonko-Shiki" to praise Shinran Shonin's virtue. This is the beginning of the Hoonko Service. Since then, Jodo Shinshu followers have observed the Hoonko service on the memorial day of Shinran Shonin for approximately 700 years.
This is observed to recall and appreciate Shinran Shonin, and listen to the Nembutsu teachings. This service is the most important service for Jodo Shinshu followers.